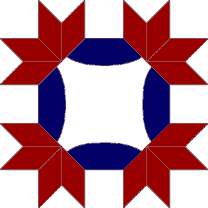 Links
Local Quilt Shops ♦ Quilt-Related Member Businesses ♦ Online Quilt Shops
Local Quilt Shops
Pelham, NH— Machine quilting on the HandiQuilter, "Fat Quarter Mondays", fabrics, classes, quilt gadgets and more in tax-free New Hampshire.
Bolton, MA— Quilt fabric, books, patterns, kits, blocks with the focus of folk art and "repro" colors. Folk art items, punchneedle supplies, needle felting supplies and kits, and more.
Merrimac, MA— Fabric (including a nice selection of Japanese and Japanese-inspired fabric), books, patterns, and notions for quilting, Janome sewing machines, and yarn and knitting & crochet supplies.
Bedford, NH— A wide selection of fabrics and supplies for quilting and other fabric arts, classes, and more.
Salem, NH— Fabrics, sewing supplies, Block-of-the-month, FQ Thursdays, Girls Night Out, workshops and more. Please be aware if you are movement impaired that the shop is on the second floor (the classroom is on the first) and I could not find an elevator.
Portsmouth, NH— Great selection of batiks and other quilting fabrics, Japanese & Guatamalan handwovens, fabric for clothing and Home Dec, sewing machines, and specialized threads. Been in business more than 25 years. Nice touristy area.
Henniker, NH—"The quilter's destination for fine materials, fresh inspiration, and satisfying solutions." Fabrics, kits, notions, classes, Voted "Best in New Hampshire"
Framingham, MA— They're back! Run by a son of the former Fabric Place owners, the new store features a quilting section that is bigger than most of the quilting shops. Most of the fabric is "out-dated" so they are able to buy it for less and sell it for less, but once it's gone... They also carry upholstery and garment fabrics and supplies as well and knitting supplies.
Acton, MA— A quilt shop with funky flair has fabric, kits, books, notions, classes. Also sells Berninas and Babylocks.
Arlington, MA — Quilting fabric, books & notions, home dec and dressmaking fabrics and hard-to-find stuff like bridal netting and cotton/linen towelling.
Marlborough, MA— A full service sewing and repair center servicing all brands, with sewing machine sales, fabrics, kits, notions, accessories and classes.
Sanford, ME— Sort of a "Building 19", they have quilting fabrics at discount prices which makes them a good bet for backing yardage. Marden's has other locations in Maine but not all have a fabric department.
Lyndeborough, NH— Over 1500 bolts, notions and books. Classes available, and an online store. The original location was, literally, the "bunkhouse" for migrant workers who worked in the apple orchards. Link not working.
Townsend, MA— Long arm machine quilting services, fabrics, batting, books, patterns, notions, classes, Trunk shows, Workshops and Lectures.
Hudson, NH— Jam packed with a large selection of fabrics, including repros &amp Asian, books, thread, and a long arm machine. Quick access off 3A near the Hudson Walmart.
Westminster, MA— Fabrics from Moda, Benartex, Robert Kaufman, Clothworks, Northcott, Wilmington, Red Rooster and more; Preprinted Panels, Novelty prints, tone on tones, children's prints, cat and dog fabrics, homespuns, seasonal fabrics, cottons, flannels, wool, batiks, books, gifts, and Tea Towels Galore!
Tewksbury, MA— Whimsical and brights, lots of basics, books, notions (including handbag making supplies), classes. No internet sales. (Link is to blog.)
Holden, MA— "A little store full of quilting goodness!" located in Holden center. No internet sales (to come.)
Quilt-Related Member Businesses
Fabric, Quilt photography, Photo transfers
Professional Longarm Quilting Services: custom, freehand and pantograph (edge to edge) machine quilting services available
Phone: (978) 692-1945

Sew Many Quilts, Sew Little Time —

Professional Computer-Driven Longarm Quilting Services: custom and edge-to-edge.
Phone: 978-692-5720
Online Quilt Shops
Center Harbor, ME — Not only the "Grandmammy" of mail order/online stores, KQ has just about everything you could even think you'd want, friendly staff and excellent customer service. With over a 1000 bolts of every kind of quilting fabric imaginable, books, kits, notions, and tchotckes, the "bricks and mortar" store is worth a visit as well.
Hamilton Missouri — Large online quilt store with fabulous daily deals (sign up for email notices). Great service, lots of selection. The quilt store helped revitalize their town.
More cat fabric than you've ever imagined was available.
Family run store online features books, and quilting notions, and lots and lots of links, including a free block of the month.
Just what it's called, this online vendor specializes in "the best in quilting supplies."