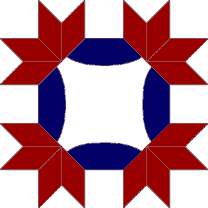 Membership
Joining the Guild
Anyone over the age of 18 with an interest in the art of quilting is welcome to become a member of the Chelmsford Quilters' Guild. All levels of quilters are welcome—beginning, intermediate, and advanced, as well as those who have never made a quilt, but collect or admire them. (Juniors, ages 6 - 18, may join the guild if they are sponsored by an adult member.)
Joining the guild is easy—come to a meeting, fill out a Membership Form (which you can print and fill out in advance), and pay your dues.
Dues are $20 per year (Annual memberships expire September 30th of each year), $10 for juniors ages 6-18.
We would love to have you join us!
Benefits of Membership
Monthly Guild Meetings—Enjoy speakers, demonstrations, show and tell, social time, raffles, and more.
Access to Guild Activities—Participate in Block of the Month, Challenge, Workshops, Comfort Quilts, our Quilt Show, and more. (Please see the Activities section links to current activities.)
Newsletter—Receive a monthly newsletter listing guild activities and other items of interest.
Opportunities to Show and Exhibit your Quilts—We have Show and Tell at every meeting, time permitting. Every other year we have a public Quilt Show of members' quilts.
Camaraderie of fellow quilters—Meet new friends at guild meetings and events. Attend quilt-related activities with other guild members.
Quilting advice—Have a question about quilting? There's usually another member who can offer some help!
Yahoo! Group—The guild has a Yahoo group for CQG members only to discuss quilting, area resources, local events and, in general, talk among guild members about topics of interest to us all. In the files and photos sections of the Yahoo! group you can find pdfs of current and older newsletters and Jeff's fabulous photos of our meetings and events.
Facebook—The guild has a presence on Facebook for CQG members to discuss connect and find out the lastest information.
Discounted Membership to The New England Quilt Museum—In addition, on designated days, guild members receive free admission!
Discounts at some quilting and fabric stores—Just ask and show your membership card.
Guests
Guests and visitors are welcome at all of our meetings. Guest fee is $5 per visit. If you would like to check us out as a guest, your guest fee will be credited toward membership if you decide to join that night.
---
Questions about joining the guild? Please send us an email.