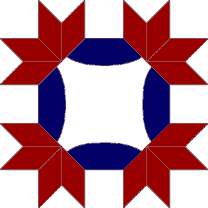 Links
Quilt Museums ♦ Non-Quilt-Related Member Businesses ♦ Quilt Miscellanea ♦ Area Guilds
Quilt Museums (or Museums with Quilts in them...)
Lowell, MA—
Lowell, MA—
Shelburn, VT—
Boston, MA—
Hartford, CT—
Bennington, VT—
Lexington, MA—
Sturbridge, MA—
Non-Quilt-Related Member Businesses
Unique jewelry and gifts by Amy Lindsay and Peggy Wilson
Ginny's niece makes cute hand crocheted dolls
Quilt Patterns, Info, and Other Stuff
Blog and constantly growing library of articles and patterns, affiliated with a message board (forum).
Online classes from basic quilting to graduate design work. Free sample lesson, nice informational articles in the "Library" section.
The Alliance for American Quilts is a nonprofit organization whose mission is "to document, preserve, and share our American quilt heritage by collecting the rich stories that historic and contemporary quilts, and their makers". Their Quilters' S.O.S. (Save Our Stories) interviews make fascinating reading.
Alex Anderson and Ricky Tims onlive TV show (requires subscription.) The site also includes Blogs, message board, chat rooms, and online quilt gallery.
The Alzheimer's Art Quilt Initiative (AAQI) hosts this version of Deb Richardson's Post Card Tutorial as an idea for people to make contributions to the effort, but once you know how to do it, you can make them for your family, friends, and our Quilt Guild Show Boutique...
Moda Fabrics' blog featuring easy quilts and other projects using "layer cakes" (collections of 2.5" strips) and other precut packages.
Wilmington Prints has several nice patterns as example projects to use with their fabrics. They are downloadable as PDFs which you can then print on your printer. Click on the "projects" link.
Fairfield updates their projects list fairly consistently to tempt you into using their batting and other products in your projects. They also have informational pamphlets and care instructions under the "Resources for Quilt Guilds" link.
Other Guild Web Sites
Concord, MA
Watertown, MA
Townsend, MA
Hudson, NH
Tewksbury, MA
Lowell, MA
Leominster, MA
Framingham, MA