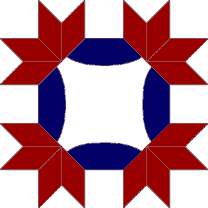 Four Square Quilt
Preparation
Materials:
0.75 yard yellow fabric (or use many yellows for a scrappy look)
0.75 yard light yellow/blue print
1.25 yard blue fabric
0.5 yard fabric for binding
batting (a 60" x 60" batt should be more than enough)
fabric for backing (approx. 1 and 5/8 yard of 44" wide fabric)
thread for piecing
thread for quilting (if desired), or
floss or crochet thread for tying (if desired)
Tools:
Rotary cutter, mat, and 6"x 24" ruler
Sewing machine and basic sewing supplies
Iron and ironing board

Cutting
Cut six strips 3.5" wide from selvage to selvage from yellow and the light yellow/blue print. These will be used in the four-patch blocks.
Cut six 6.5" wide strips from selvage to selvage from the blue fabric.
Cut thirty-two 6.5" squares from the strips cut it in previous step.
Cut five 2.5" wide strips from the binding fabric.
Sewing
Sew each of the six yellow strips to a light yellow/blue strip.
Iron the seam to one side.
Cut each strip across to create 3.5" units (each unit will have one yellow square and one yellow/blue square).
Sew the units in pairs to make the four patches. You will need 31 of the four patch blocks, which should now measure 6.5" square.
Alternating the four patch units with the 6.5" blue squares, create rows according to the quilt layout.
Layer backing, batting, and pieced top.
Baste with thread or safety pins if quilting.
Quilt as desired, or if you're tying the quilt simply tie the quilt.
Trim edges.
Make binding and apply it to the quilt.
For more details on finishing the quilt, there are a number of very good books for beginning quilters in our library or you can consult any number of web sites, such as About.com's Quilting pages.
---