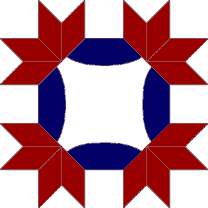 Welcome to the Chelmsford Quilter's Guild Web Site. We are a large group of quilters of all experience levels and many interests. We welcome you to learn more about us through the links to the left.
February 27th evening Meeting:
Lecture: Beth Helfter: Give it a Scrap Slap

Beth Helfter of EvaPaige Quilt Designs will join us this month to talk about scraps. You may know Beth from her blog - Quilting Hottie Haven, her pattern company - EvaPaige Quilt Designs; her other talks - including "Perfection is Overrated"; or her "Drop and Give Me Twenty" challenge in the month of February. Since starting her company in 2004, Beth has published over 40 patterns and her work has been featured in Quilter's World, The Quilter, Quiltmaker's 100 Blocks and Cotton Spice magazines.
In this talk, "Give it a Scrap Slap", Beth will give us a look inside her yearlong stint as a member of the 2014 Quiltmaker Magazine "Scrap Squad," a select group of 6 quilters from across the continent tasked with redesigning one pattern from each issue entirely in scraps. Each assignment led not only into the morass of scrap hoarding in her studio, but also inspired her to create several of her own designs based on the originally assigned projects. Lots of thoughts on what makes a good scrap quilt, why scrap quilts are favorites, and insights into how one idea morphs into so many more during the design process will be included in this talk. You'll never look at a quilt pattern just one way again!


February 27, 2017
at 7:00pm
St. John the Evangelist Church
115 Middlesex Street
No. Chelmsford, MA 01863
It's that time - Fill out your membership form: click here to print and fill it out in advance to save time.

Amy Lindsay, Maryann Geiser, and Candy Campbell are coordinating the construction of a new raffle quilt. It will have single Irish chain blocks alternating with star blocks. Please bring in any Irish chain block kits even if they are not complete. For further info, please visit Amy's blog.
Guests are always welcome to attend our guild meetings. Guest fees are $5 for nights when we have a speaker, $3 to attend other meetings. See the Calendar for this year's programs.
Meeting Cancellation Policy:
In cases of inclement weather, check your email or the website before heading out to a meeting. Or you can call one of the guild officers.
Open Sew Join fellow members for open sewing time at the Chelmsford Senior Center, 75 Groton Rd (Rt 40). Currently scheduled dates are January 30; February 6 and 13; March 6, 13 and 20; April 3 and 10; and May 1, 8, and 15 from 6:30-9:00 pm. Come for all or part. Bring a project or just come to socialize. You will find great lighting, large tables, an iron, cutting mat, and fabrics which may be used for comfort quilts.
Please check in at the computer. If no evening quilting group is listed, use the afternoon group. The Senior Center funding is based in part on usage, so this is very important.


Click here for the CQG Articles of Organization.

If you have problems with or questions on the web site, wish to suggest more page topics or links, or add your business to our links pages, please contact the Web Manager.