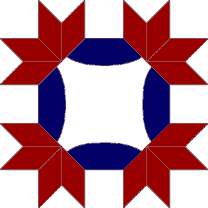 Welcome to the Chelmsford Quilter's Guild Web Site. We are a large group of quilters of all experience levels and many interests. We welcome you to learn more about us through the links to the left.
Summer Meetings!

Be there, where? The upstairs room at the Chelmsford Senior Center, 75 Groton Rd (Rt 40). 6pm to 9pm.

* Wednesday June 21 - jelly roll race
* Wednesday July 26 - triangle test
* Wednesday August 23 - Mystery Block Month


Mystery Block - WEDNESDAY, August 23rd, 6pm to 9 pm (5:45 setup)

Bring with you (already cutout):

* Background, light to medium fabric cut into 20 four and 1/2 inch squares (4 1/2") and 4 2 1/2" squares from the same fabric.
* Featured fabric 1 - cut 24 two and 1/2" squares (2 1/2") all the same fabric.
* Featured fabric 2 - cut into 8 two and 1/2" squares (2 1/2") all the same fabric.
* Featured fabric 3 - 3 different fabrics similar to featured fabric 1, cut four of each fabric, 2 1/2" squares.
* Featured fabric 4 - one 4 1/2" square that coordinates with featured fabric 2.

You will need your sewing machine and regular supplies. You will finish your block that evening. The secret word for the month is Matilda, write it on a piece of paper along with your name and put it in the bag that evening. If you want to get a head start,press featured fabric 1 and 3 in half on the diagonal.

If you want to bring refreshments to share that would be great. Also I need 3 people to bring ironing boards and irons for everyone to use.

Let Anne Gallo know if you plan to come.

Please remember to sign in at the Senior Center. It is important for funding reasons!




Click here for the CQG Articles of Organization.


If you have problems with or questions on the web site, wish to suggest more page topics or links, or add your business to our links pages, please contact the Web Manager.