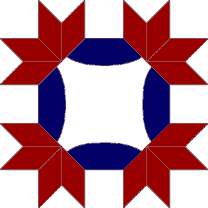 Welcome to the Chelmsford Quilter's Guild Web Site. We are a large group of quilters of all experience levels and many interests. We welcome you to learn more about us through the links to the left.
Summer Meetings:
June 22, July 27, and August 24
Our summer meetings will be held upstairs at the Chelmsford Senior Center, 75 Groton Rd. (Rt. 40), Chelmsford MA. The meeting time is 7-9 pm. There are no newsletters or blasts in the summer, so mark your calendars now so you won't forget. Our summer meetings offer a great space with plenty of tables where you can spread out your hand or machine projects and be assured of two uninterrupted hours of working time, or time to simply sit and socialize instead. If you bring a light for handwork or are bringing your machine, please remember to bring an extension cord. Then it will be much easier to spread out around the room.


If you have problems with or questions on the web site, wish to suggest more page topics or links, or add your business to our links pages, please contact the Web Manager.