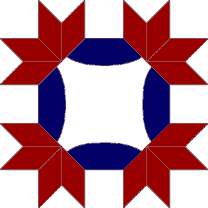 Welcome to the Chelmsford Quilter's Guild Web Site. We are a large group of quilters of all experience levels and many interests. We welcome you to learn more about us through the links to the left.
Summer Meetings!

Be there, where? The upstairs room at the Chelmsford Senior Center, 75 Groton Rd (Rt 40). 6pm to 9pm.

* Wednesday June 21 - jelly roll race
* Wednesday July 26 - triangle test
* Wednesday August 23 - Mystery Block Month


Jelly Roll Race - June 21, 6pm to 9 pm

To Participate you must have a new unopened Jelly Roll, your own sewing machine in good working order and scissors, thread etc. We will have irons and boards for you to use, do NOT bring your own iron. Yes, you may bring your own sew-ezi sewing table.

Set up will start at 5:45; race begins at 6 sharp.

Rules:

1. Unopened Jelly Roll.
2. Quilt must be at least 48" wide.
3. Joined strips must be mitered or joined by adding a 2 1/2" square, you can bring as many 2 1/2 inch pre-cut squares as you want.

Prize:

A Kaffe Fassett kit with 12 fat quarters and border fabric.

Opened to all members of the Chelmsford Quilters Guild! Cheering sections welcome and of course, you may sew on your own projects while this is happening.

Please email Anne Gallo if you plan to participate (anniemcguiregallo@gmail.com).

Please remember to sign in at the Senior Center. It is important for funding reasons!




Click here for the CQG Articles of Organization.


If you have problems with or questions on the web site, wish to suggest more page topics or links, or add your business to our links pages, please contact the Web Manager.